UV laser marking machine precise laser marking machine
UV PRECISE LASER MARKING SYSTEM
AHL - UV3/AHL - UV5/AHL - UV8/AHL - UV10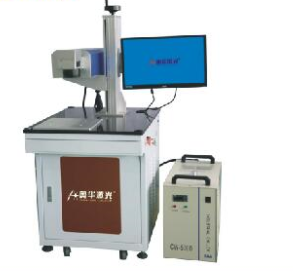 Application:
1.It is mainly used in the highly precise procesing , especially in drugs, cosmetic ,plastic bottles of polymer materials. It is of high performance, reliability and no pollution, which is better than traditional ink code marking.
2. Flexible PCB board marking, scribing, silicon crystal, blind hole processing.
3.LCD liquid crystal glass two-dimensional code marking , glassware surface drilling, metal surface layer marking , plastic keys , electronic components, gifts, communications equipment, building materials marking.

Product features:
UV laser marking machine adopts all-in-one overall design, which is easilyintegrate into industrial production processing. It can operate laser directlyby controlling interface (USB), no supplies, and products' depreciation costsare greatly reduced. By comparison, it has performances including highefficiency, long life and maintenance-free and so on, but the traditional laserdoes not.
Advantages:
1. High-definition: the resolution is measured by micron; it is two timesclearer than traditional machine.
2. Less power consumption: occupy traditional consumption of one and two-fifthsto one and ten.
3. High-speed: the speed is three to five times faster than traditionalmachine.
4. Stability: the stability of machine is much better than similar counterpart.

Specification:
Model

AHL - UV3

AHL - UV5

AHL - UV8

AHL - UV10

Max. power

3W

5W

8W

10W

Laser wavelength

355±1nm

355±1nm

355±1nm

355±1nm

Pulse width

<25ns@30KHZ

<25ns@30KHZ

<25ns@30KHZ

<25ns@30KHZ

Beam quality

㎡<1.3

㎡<1.3

㎡<1.3

㎡<1.3

Beam diameter

0. 7mm

0. 7mm

0. 7mm

0. 7mm

Laser repetition frequency

10KHZ ~ 100KHZ

10KHZ ~ 100KHZ

10KHZ ~ 100KHZ

10KHZ ~ 100KHZ

Marking range

100mm*100mm

100mm*100mm

100mm*100mm

100mm*100mm

Optional engraving range

50mm*50mm/

150mm*150mm

50mm*50mm/

150mm*150mm

50mm*50mm/

150mm*150mm

50mm*50mm/

150mm*150mm

Engraving depth

≤0.5mm

≤0.5mm

≤1.0mm

≤1.0mm

Engraving linear speed

>800 standard character/s

>800 standard character/s

>800 standard character/s

>800 standard character/s

Min. linear width

0.02mm

0.02mm

0.02mm

0.02mm

Repetition accuracy

± 0.002mm

± 0.002mm

± 0.002mm

± 0.002mm

Power consumption

≤500W

≤500W

≤500W

≤500W

Electrical connection

220V ± 10%/50HZ/4A

220V ± 10%/50HZ/4A

220V ± 10%/50HZ/4A

220V±10%/50HZ/4A

Laser source

UV

UV

UV

UV

Galvanometer

QINLONG

QINLONG

QINLONG

QINLONG

General life of laser

>100000 hrs

>100000 hrs

>100000 hrs

>100000 hrs

Cooling style

water cooling

water cooling

water cooling

water cooling
Marking sample shown: